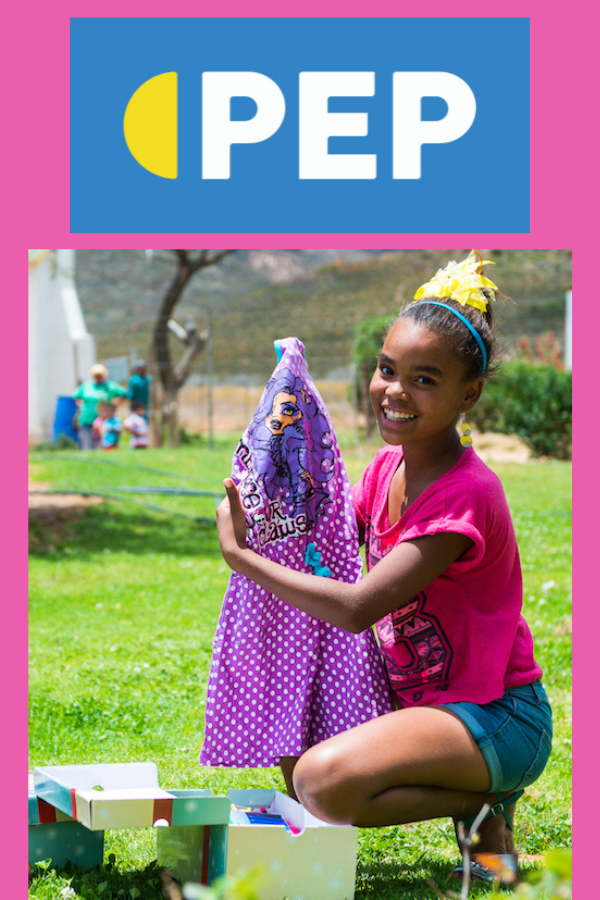 This year we are amplifying your reach by including a second storybook in each Virtual Santa Shoebox for the beneficiary child to give to someone they love, an uplifting lesson in sharing, all too often out of reach for underprivileged children.
From Mandela Day on 18 July, choose your Virtual Santa Shoebox beneficiary children by name, age and gender, select the items to be included in your Shoebox and write the child a personalised note – we'll do the rest for you.
Virtual Santa Shoeboxes (VSS) are made by teams of volunteers and allocated to underprivileged children living in remote areas of South Africa. Due to the lack of donors in rural areas, these children would otherwise not receive a Santa Shoebox and quite possibly no end-of-year gift at all.
Every VSS contains all 8 required items:
* Toothbrush & toothpaste
* Soap & facecloth
* School supplies
* Toy
* Sweets
* A PEP voucher for an outfit of clothing
Additional sponsored items are added as available and age-appropriate. These include books and teen hygiene products.
The cheerfully printed Shoeboxes are packaged, delivered and personally handed to the beneficiary children.
The VSS also serves as the Projects' sustainability tool. Thanks to the enormous generosity of component sponsors, your purchase yields funds which are used to ensure that the Project is able to continue in its mission of uplifting and empowering underprivileged children throughout South Africa and in Namibia.
WHO MAKES VIRTUAL SANTA SHOEBOXES POSSIBLE?
You of course! Along with our fantastic sponsors who have generously donated goods and services.


As a Level One Contributor to B-BBEE, Santa Shoebox earns its supporters 135% procurement recognition. With its Section 18A status as a Public Benefit Organisation, the Project is able to provide a tax-deductible receipt in recognition of sponsorships and / or donations. The Project is an initiative of the JOG Trust (IT2671/2009). The Trust is registered as a Public Benefit Organisation (PBO-930031301) and a Non Profit Organisation (NPO 102-098) and is 100% SED compliant, holding a current ICPR.

If you are resident in South Africa and would like a tax deductible receipt issued for your donation, please send your request to donation@santashoebox.org.za with proof of donation attached to your email. Please also provide your full name, your physical or postal address and the e-mail address to which the receipt must be sent.