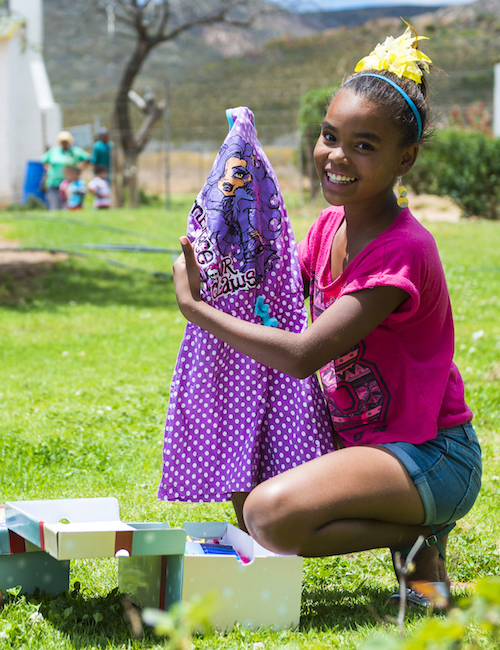 Personalise your Virtual Santa Shoebox (SOLD OUT)
"PLEDGE A VIRTUAL SANTA SHOEBOX FOR MANDELA DAY"
From 18 July the Santa Shoebox Project is offering its supporters the opportunity to purchase a Virtual Santa Shoebox for a rural child in need. These Shoeboxes are ideal for donors living overseas, or locally but too far from a Drop Off point – or simply for those who don't have the time to do their own shopping, packing and decorating.
The Virtual Santa Shoeboxes will be made up on the donor's behalf by teams of volunteers, and will be allocated to underprivileged children living in remote rural areas of South Africa. Because of the lack of donors in these remote areas, the children who receive Virtual Santa Shoeboxes would otherwise not receive a Santa Shoebox at all.
Every Virtual Santa Shoebox contains all 8 required items – a toothbrush, toothpaste, soap, a facecloth, sweets, a toy, school supplies and an outfit of clothing – as well as extra items, which include a drinking bottle and an activity booklet. The items are packed into a cheerfully printed container, and affixed with a colourful label showing the child's name. 4000 Virtual Santa Shoeboxes will be on offer, costing R400 including handling.
The Virtual Santa Shoebox supports SSB's three-year goal to March to a Million, with an aim of reaching one million children by 2019. To reach this mark, the goal for each year has increased to 110 000 Shoeboxes this year, 115 000 in 2018 and 125 000 in 2019.
---
Step 1 – LOGIN 
Step 2 – on your Dashboard click on the red Pledge button
Step 3 – choose Virtual Santa Shoebox Personalised
Step 4 – select a child by name, age and gender
Step 5 – choose the eight items
Step 6 – write a personal message
Step 7 – pay
---
A Virtual Santa Shoebox costs R400.00